Muriel Elizabeth Mill (Dreyer)
May 29, 1912 - March 3, 2007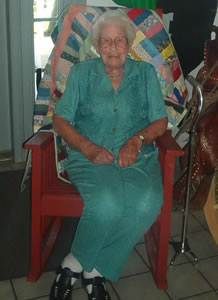 May we all live life unto the King as Muriel did....
In Loving Memory

Muriel Elizabeth Mill [Dreyer], 94, of Zion, Illinois, peacefully went to be with the Lord on Saturday, March 3rd 2007.

For nearly a century Muriel was the rock and cornerstone of faith and love for her entire family. She was born on May 29th, 1912 in Zion, IL to George Henry and Leona Pauline Dreyer. On November 25th, 1931 she married her childhood sweetheart Cecil Norman Mill and enjoyed 62 years of marriage until his passing in 1993. She was a faithful member of both Christ Community Church in Zion, IL and Wesley Church in Waukegan, IL and resided her entire life in the greater Zion area until her passing.

Muriel attended Zion elementary schools and graduated from Waukegan High School, as Zion-Benton high school was not established at that time. Muriel worked for many years in and around the city of Zion, including the then world famous Zion Lace factory. After spending 6 years working at Solo Cup she retired in 1971 in order to spend more time with her children and grandkids at home. As a continual source of encouragement, love, and boundless generosity, Muriel lived her life of faith as an example to all of us. Though she will be greatly missed, her legacy and spirit will continue for many generations to come.

She was preceded in death by her husband Cecil Norman Mill, sons James Allen Mill and Herbert Clayton Mill, brothers Silas Dreyer, Nathaniel Dreyer, and Chester Dreyer, sister Myrtle Skalla Becker, and son-in-law Donald Evans, Sr.

She is survived by her sister Mildred Stried [nee Dreyer], brother Norman (Doris) Dreyer, son Willard (Judy) Mill, daughters Marlene Evans [nee Mill] and Judy (John) Ellis [nee Mill], grandson Robert (Christie) Mill, grandson Duwayne (Pam) Mill, granddaughter Ronnica (David) Dziekan [nee Mill], grandson Michael Mill, granddaughter Cynthia (Marty) Garstkiewicz [nee Evans], grandson James (Darlene) Mill, grandson Donald (Mary) Evans Jr., grandson John (Kerri) Ellis Jr., and grandson Jason (Krista) Ellis. 16 great grandchildren and 1 great great grandchild. She is also survived by many nieces, nephews, and extended family members.

Public visitation will be held Friday, March 9th starting at 9:00 am in the main sanctuary at Christ Community Church, 2500 Dowie Memorial Drive, Zion, IL with funeral services immediately following. Muriel will be laid to rest at Mount Olivet Cemetery in Zion, IL.

In lieu of flowers, the family has asked that donations be given in memoriam to Sky Lodge Christian Camp, N4855 County Road Y, Montello, WI 53949 or Camp Zion, 2500 Dowie Memorial Drive, Zion, IL 60099.